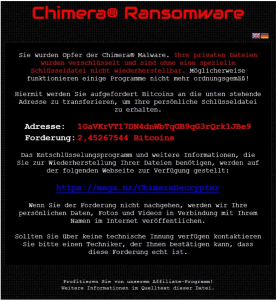 It's been a couple of weeks since a new ransomware showed up, spreading through false job applications or business offers. This new ransomware with the mystic greek name "Chimera" tries to infect computers in a business enviroment and to get the access to hard drives and sensitive corporate information.
Several variants of sender adresses try to target specific employees within a company and they have one thing in common: within the email, a link points to a source at dropbox, claiming that additional information has been stored there. The users get asked to download these files from there.
The download of the trojan automatically starts after clicking on the link. At the same time, the trojan immidiately starts with the encryption of the local data, but not only on the local drive, it even starts encrypting connected network drives by changing all files to the extension .crypt
After rebooting the computer and logging on again, a warning message shows up all over the desktop and the user can't take any further action any more. The black warning message asks to pay a bribe of almost 630 EUR in Bitcoins to get the data released again. To frighten the user even more, the message indicates the threat to publish personal data and pictures somewhere on the internet – if user doesn't pay the bribe.
At this point, there is no evidence whether personal data has been published on the internet or not – same as we haven't heard of a case where the cybercriminals have released the data after paying the 630 EUR in Bitcoins.
Our Advice: Never ever pay the cybercriminals if you have been infected by ransomware – even if the American FBI tells you the opposite.
Don't panic and wait for the Internet Security Industry to come up with an encryption tool. It sometimes takes time, but these good guys are smart and will come up with a solution sooner or later.
If you can't wait for the right encrypter, simply install your backups. You don't have a backup????  Then you should spend some extra time on our website, blog and forum to learn more about the basics and essentials of cyber security!
Another source: https://www.cloudwards.net/why-businesses-should-care-about-ransomware/